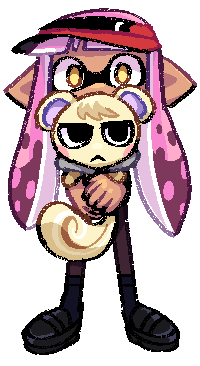 Hello ~ Yeah, this is where I upload all my switch screenshots so I can delete them off it. HAHAHAHA
That aside... I have had a long history with video games. In fact, even before I was born, was my family playing video games. I have a vivid memory of watching my aunt play Super Mario Land 2: 6 Golden Coins on the Game Boy Advance, and my uncle going at it on his PS2. I think it was thanks to that early influence did I grow such a big interest in video games as a child.
Some of my favorite games along the way were a Littlest Pet Shop plug-and-play, Pokemon Diamond, Pokemon Mystery Dungeon: Explorers of Time, Pokemon Ranger: Shadows of Almia, Dragon Quest IX: Sentinels of the Starry Skies, Okamiden, Fossil Fighters, Final Fantasy: The 4 Heroes of Light, Pokemon Black, Phoenix Wright: Ace Attorney, Apollo Justice: Ace Attorney, Animal Crossing: New Leaf, and finally, Splatoon!!!
I'm not as much of a gamer as I used to be, but I'm looking forward to We Love Katamari Reroll- I sure enjoyed Katamari Damacy when the port released!!